The Third Edition of The Machinery of Freedom is Now Available as a Kindle

The second edition is still available for free as both a pdf and a MobiPocket e-book file.
---

My second novel,

Salamander

, is also available as a kindle file on Amazon

My first novel, Harald, is available as free podcasts read by me

My Blog

A Virtual Bardic Circle with some of my storytelling


---


David D. Friedman's Home Page
This is the home page of David Friedman. Not the Hawaiian artist David Friedman, or the composer David Friedman, or the fix-what's-wrong-with- government David Friedman (050) or the fifteen year old David Friedman or the eighteen year old David Friedman or the legendary film pornographer David Friedman or even the economic journalist David Friedman but the anarchist-anachronist-economist David Friedman.


Now you know why I included my middle initial.

This page has links to my work in a variety of areas, published and unpublished. It is still under construction--and always will be.
My Four Worlds
---

Quote of the Month
"The president would get a huge symbolic boost with his base while not violating the law and while changing nothing of substance,'' Jack Goldsmith, a former head of the Justice Department's Office of Legal Counsel and a Harvard Law School professor, said in an interview. "He would get maximum symbolic value while doing nothing. Trump's a genius at this."
---
My Books
My Courses (Current and Recent)
Recordings of Courses
My Webbed Talks and Interviews
Products I Would Like to See
Story Ideas
The Option: A Story
Places I Cannot Go: A Poem
Me
My Response to a Non-Libertarian faq
Living Paper: An Open Source Project to produce computer programs that teach economic ideas.
Work in Progress: My Recent Drafts (Not so recent now)
Evidence of a successful breeding program
Report from a Sample Size of One: Some Medical Observations
Miscellaneous
---
My first
novel
, published by Baen, is historical fiction set in an invented historical background (or, if you prefer, fantasy without magic). It has a
web page
showing the lovely map created for me by Chris Porter. The
book
is available as an
eBook
and in
hardcopy
, and I have webbed
podcasts
of the entire book, read by me. Baen also has a webbed
interview
with me about the book.
---
My
second novel
, this time a fantasy with magic is up on Amazon as a Kindle
file
. The
map
of the college.
---
My most recent project is a collection of short works of literature that contain economic ideas. The
draft
is up for comments as a web page.
---
I am currently working on a book on legal systems very different from ours; the
draft
is up for comments.
---
I have now webbed the
online version
of my most recent book,
Future Imperfect
; comments welcome.
---
My book
Law's Order: What Economics Has to Do with Law and Why It Matters
, published by Princeton University Press, is accompanied by a
book web page
which contains images of the entire book along with an extensive system of links--think of them as virtual footnotes--to additional material. An
earlier draft
is also webbed, in a somewhat more readable form, but without the links.
---
An earlier book was
Hidden Order: The Economics of Everyday Life,
published by Harper-Collins. Click to see the
Table of Contents
and a
sample chapter
(on the economics of crime). Copies are available from
Laissez-Faire books
and
Amazon.com
as well as many local bookstores. There is even a webbed
transcript
of my appearance on Book Notes discussing the book. German and Japanese translations of the book are also in print.
Click here for the online errata--errors corrected as they come in, starting with Figure 3-1b.
---
All of one earlier book of mine,
Price Theory: An Intermediate Text
, is available on the web, including the two chapters of the first edition that were left out of the second edition.
---
All of my first book, The Machinery of Freedom: Guide to a Radical Capitalism (2nd edn) is now webbed, both as a pdf and as a MobiPocket e-book file.
---
Why We are Getting Smarter: A Conjectural Explanation
A conjectural explanation for concealed ovulation in humans.
Ideas for research projects in economics that other people might like to do.
---
---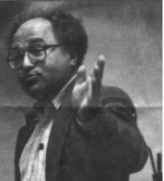 My wife says that when someone points a camera at me I look as if was facing a firing squad. I am not sure if this (from at talk I gave at Texas Christian University entitled "In Defense of Anarchy") is an improvement.
If you prefer color, this one was taken on a visit to Iceland some years back, and this was taken, and webbed, by Declan McCullagh.
---
In October of 1997, I had a televised debate on encryption regulation with Ed Meese. The transcript is now webbed.
---
I can be reached at DDFr@DavidDFriedman.com
---
Detailed information on usage of this site.